Once you have decided to purchase blinds you still have the difficult decisions of picking the right blinds for you. Should you go for roller blinds or vertical blinds? The truth is, the answer is generally going to be different for everyone. It also depends on what style you want and how you want your blinds for complementing your home's interior.
It is also important to consider where you want to set up your blinds. But selecting the right blinds for you doesn't have to feel daunting. Below, I'm going to share a guide that will help you in choosing the right blinds for your home.
Roller Blinds
This is one of the most popular choices that come in a wide range of attractive designs, as well as have a high level of durability. As that is a blind type that opens and closes with ease, it helps the wear well in the long run. Design-wise, you will get plenty of colorful options as well as patterns to choose from.
These blinds let in plenty so that are effortlessly suited to being outdoor blinds. Further so than balcony blinds and this is because your balcony is an area wherever you want to keep light as well as shade. They can work for your outdoor space reliant on your penchants.
Vertical Blinds
Vertical blinds may suit the bedroom window area the most. This is since they help to keep out light that is produced by the sun shining through your windows. It also provides you a good level of durability and a lot of design options to choose from based on your needs and liking.
There are several options to select from when you pick aluminum slats. You will also get the option of fabric vertical blinds that enhance your design choices. If you want to use your open area more during the evening then you can consider vertical roller blinds.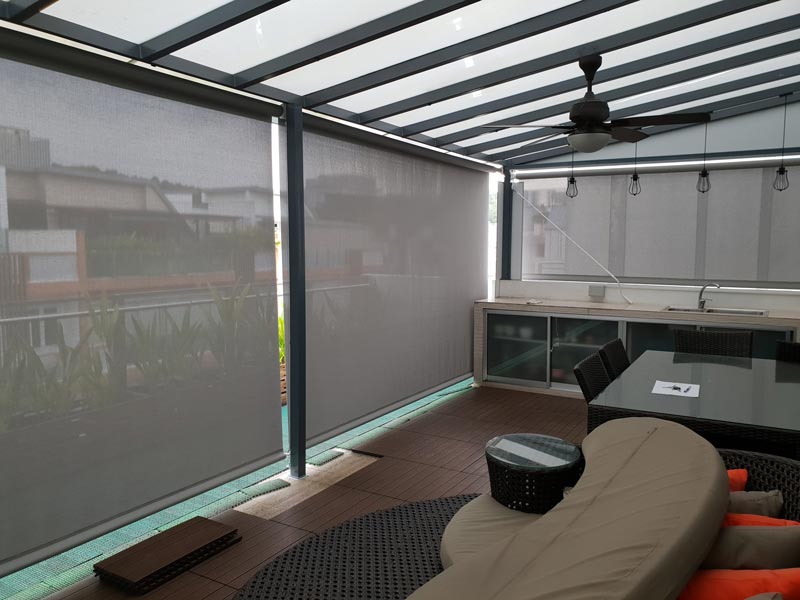 Vertical Blinds vs Roller Blinds
When going to choose one, you should consider their individual style. This is one of the most important factors that separate these blinds. Vertical blinds are generally made up of separate boards that are allied to a track, which runs across the top of a window. This blind will either open from the centre outwards or from one of the sides. Individuals may also choose vertical blinds to get protection and create a clean look in the interior.
On the other hand, roller blinds can be rolled down and are made from synthetic materials or natural fabric. There is a wide range of mount types that come with roller binds for securing a window. This is something essential to look into if you are thinking about roller blinds are right for you and your property. You will also have a wide variety of choices when it comes to roller blinds.
The selection of one depends on your specific requirement and choices. So, you should always think once which one will best for you that will provide you with better protection, as well enhance your property. You can find one of the best metal roof contractors and suppliers for buying a high-quality retractable awning, roller blinds, vertical blinds, canopy, and many others.