Roller blinds aren't just a décor element but work as a centerpiece of attraction for visitors who have a sense of aesthetics and relaxation. With wonderful blinds in your home, visitors are sure to appreciate your taste and brilliant appearance while you get the best protection against direct sunlight. It could be an excellent way to cover your open area and achieve a luxurious look in the interior.
For homeowners who need efficient light control and privacy, they can opt for blackout and dim-out fabrics to protect their homes from the outside world. An outdoor vertical roller blind can be mounted inside or outside the window frame, or even directly on the ceiling, creating a refreshing environment in your home during the hottest summer days. Moreover, they come in different sizes and shapes that easily blend with your interior décor.
What are Vertical Blinds?
Vertical blinds involve a series of vertical fabric slats that are twisted to close and obscure the window. It is made from a range of fabrics with different prints and colors, allowing you to create an effortlessly stunning look. For instance, dim out and glare reduction fabrics can help tackle bright sunlight. These are extremely useful in both residential and commercial properties.
Why Install Vertical Roller Blind in Your Outdoor Spaces?
To know whether investing in roller blinds is a great option, read on to understand the reasons to give wonderful treatment to your exterior spaces.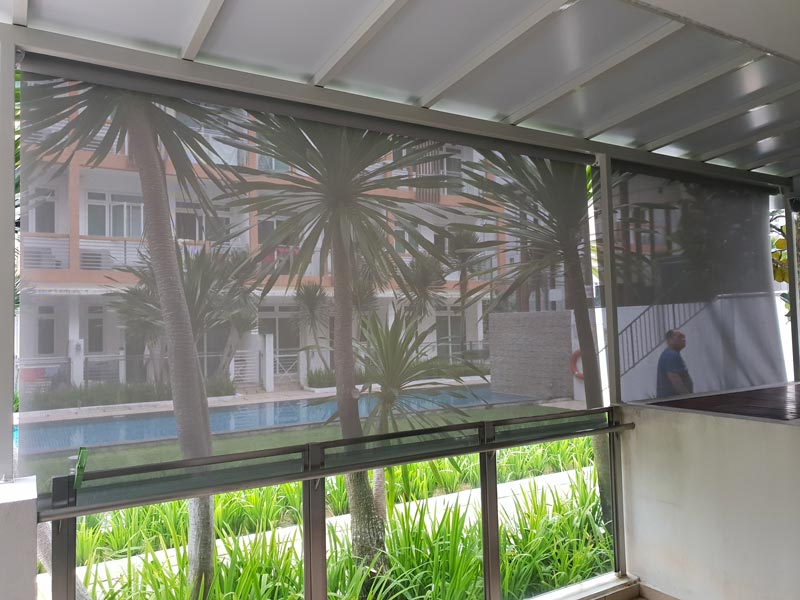 Keep Your Home Cooler
Installing roller blinds outside of your windows is an effective solution to keep the heat of the sun out. Without outdoor blinds, the sun can directly hit the glass and heat the interiors, which in turn increases the temperature of the environment.
The outdoor roller blinds are easy to operate and can be adjusted to the height and coverage of the blind as required.
Enclose your Patio Area
It can help create additional outdoor space so you get the best of both worlds. Even on hot summer days, you can sit on your patio with your friends and family while blinds control the light and heat. You can also install an outdoor umbrella stand to enjoy quality time around your patio area even if the sun is too hot.
Easy to Maintain
While most parts will remain clean, light colors will obviously show dust and dirt than darker hues. It simply needs light dusting with a soft brush or duster. Make sure to rinse the blinds with fresh water afterward for a freshened look.
Versatile and Practical Choice
Vertical blinds come in a variety of styles and sizes that easily fit into complicated bay windows in your home. You can even customize it depending on your taste and preference. These are available in many colors, fabrics, shades, and textures.
If you're looking for outdoor roller blinds, you can discover a fantastic range of options at SG Sunshade Guru Pte Ltd. that suits everyone's taste preferences and color scheme. For complete privacy and light control in your property, get your hands on our excellent shade solutions.