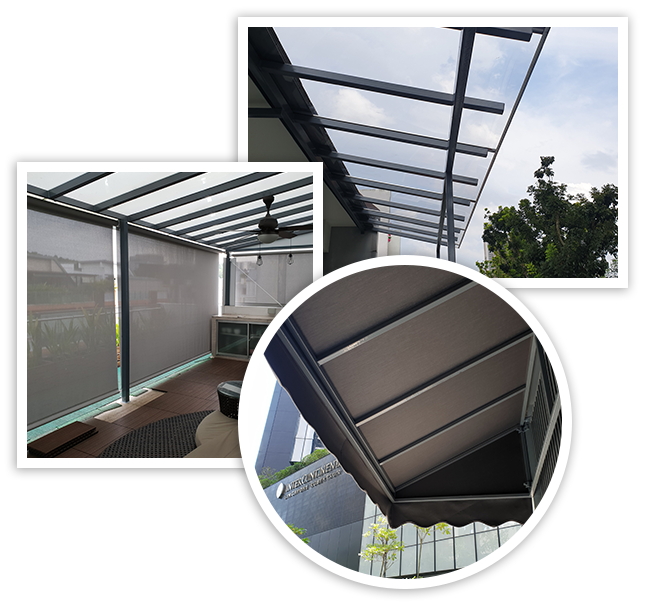 In today's times, residential as well as commercial properties are seeing a rise in demand in beautifully designed shades and roofing that not only provide additional functionalities and capabilities but also improves the overall aesthetic feel and look of the premise.
This is what SG Sunshade Guru Pte Ltd. brings to you and has become a leading name in the industry owing to high quality, reliable and trendy products supplied to all types and size properties with full customer satisfaction guarantee. Our comprehensive range of product list includes Curtain, Roller Blinds and Venetian Blinds for indoor shades, and Retractable Awning, Vertical roller blind, Latin Loop, Aluminium composite panel, Polycarbonate (solid & twin wall), Customised Fabric, Canvas Canopy & Parasol Umbrella for outdoor shades purposes.
Our Mission
With over two decades of experience in the industry, we have become a leading benchmark in Singapore, crafting and providing solutions that are best in style, quality, durability and capability while being extremely affordable. We render custom-tailored solutions to meet your heat, glare and privacy, as well as space addition requirements.
Our Vision
Our vision is to spearhead the segment with remarkable and highly decorative products that are specifically built to fit the precise requirement of the property owners. We strive to bring innovative technology to the fore in the segment and with a team of experienced contractors we tread the path of commitment to quality with full dedication. All of our products strictly meet international quality standards and we will continue to expand and grow our platform to deliver unique and versatile choices.

Commitment
Clients' needs are the priority. Our professional staff provide our clients with advice and knowledge needed to deliver a product beyond their expectations. Communication is key. We pride ourselves on timely, precise, and through the process of creating your dream space.

Quality
Going above your expectations is the standard for SG. We have curated the most exclusive collection of materials and technologies to allow the creation of excellent products. Experience comfort and luxury whether it rains or shines.

Integrity
Our business is built on trust. Trust us to always hold your interest in the highest regard. We create an environment of respect, treating you as we would treat our own family.

Teamwork
We value our clients as partners in the creation of elegance. Our commitment to communication demonstrates our care and concern for our clients. Our team are the champions of creating a stylish outdoor space that make a statement in the persistent sunshine.

Affordability
Creating elegance doesn't have to break the budget. Because we have developed partnerships with our suppliers, we can offer competitive prices. Our team can maximize your budget while continuing to create the space you desire. Our wide range of materials allow us to both provide style and value.